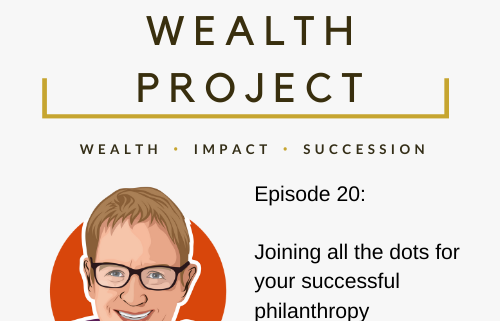 Joining All The Dots For Your Successful Philanthropy / Podcast Episode
What is philanthropy to you? Annie Moon joined Sascha Janzen on episode 20 of The True Wealth Project to discuss just that. Annie always wanted to be in the impact space from a young age, she now has over 30 years of experience in many different roles. The passion came to her when she wanted to help others and wanted to do more.
So, what is philanthropy for Annie? For her, it's not the straightforward donating to charity, it's about creating a tangible difference that comes from the heart. It's about your values and how you make those happen.  Philanthropy is a broad term that can range from large changes and impacts down to small impacts and the rewarding part for Annie is actually seeing the difference that working with others through your input can help create.
Who can and should be a philanthropist? In Annie's eyes, everybody can be a philanthropist who wants to be one. It enables people to make an impact and they do it from their hearts. When this happens they feel a connection with the positive outcomes of their actions. As mentioned before, philanthropy is a broad term and this includes the level involvement someone might have. Annie gives some insight on how to get involved if you aren't ready to fully immerse yourself in a journey but want some help and guidance.
"It's about so much more than the money."
What are the key motivations of a philanthropist? Annie explains that people often think about it for a long time, they don't just wake up one morning out of the blue and decide that day they will become a philanthropist. There's often many times they've felt passionate about something and after pondering how to get involved they finally take action. It's also a lot to do with who people surround themselves with.
Wanting to get into philanthropy but find it daunting? It's often about taking your first steps and then finding your way as you go along. It's great to have big ambitions and big goals, but the key is to break it down, start small and make your goals attainable. Annie explains some excellent steps to getting started on the episode.
"The joy of philanthropy is that it's a learning experience."
Philanthropy is a learning experience and your vision may not go exactly as planned. She goes on with a few more tips on how to make your journey a success that included searching for a course and linking with peers who are also on a similar journey. We also talk about how to build a strategy and put it into action.
If you're looking to get started, start your journey by piloting something and see how it goes… learn from it! You might build from it or you might move on. Build a network of people to bounce ideas, outcomes and failures off of. Ultimately, you want to dive in and be the best version of a philanthropist that you can be.
"The process isn't rocket science, it's the process and seeing it through."
When Annie was asked what is true wealth to you? She answered that true wealth is being contented and knowing what it means to be happy and to be able to be happy in the moment. She was also asked if there was one thing you could change about our planet what would that be? Her answer was for everybody's voices to be heard and listened to and acted upon. These answers truly show the light that Annie brings to the world and what a difference she can continue to make in the impact space.
So what were the biggest takeaways from the discussion?
Have big goals but start small.
Surround yourself with people who will make this journey easier for you and worthwhile.
Take your journey as a learning experience whether it succeeds or fails.
Be bold if appropriate!
 Listen here to the full conversation in episode 20 of The True Wealth Project Podcast
https://janzenco.com/wp-content/uploads/sites/2/2021/09/Episode-20-Card.png
500
500
janzenwebverwaltung
https://janzenco.de/wp-content/uploads/2015/12/logo_janzen@2x1-300x138.png
janzenwebverwaltung
2021-09-23 22:06:53
2021-09-23 22:11:48
Joining All The Dots For Your Successful Philanthropy / Podcast Episode